Munduslingua

Talent Market
Discover new talents from all the world
There are great unknown talents in this world. Some of them keep their talent private and decide never to share it with others. This first option is, of course, very respectable. However, some others would like people to discover their talent so that they may buy and enjoy their creative works.

Munduslingua, through its Talent Market, promotes the talent of countless individuals on a daily basis. We invite you to discover and enjoy exclusive contents in fields such as Literature, Graphic Design, Cinema, Photography, Music and many others that have been created by people with outstanding little-known talents.

Literature
Dulce et Decorum Est



Dulce et Decorum Est by Australian author John Bartlett



Australian author John Bartlett introduces us to Uncle Frank, a veteran who has fought at the Battle of the Somme during the First World War. Having survived a deadly attack where he loses his friend and lover Bert, Uncle Frank returns to his native hills of Adelaide in Australia with scars from the war that accompany him for the rest of his life. A beautiful story of love that transcends war and death. Dulce et Decorum Est is available in both English and French.

Literature
Trips from hell and all that that implies
Viajes desde el infierno y lo que ello implica


Trips from hell and all that that implies by American author April O'Brien



American author April O'Brien takes us on a series of unforgettable trips that she made during her childhood and adult years when moving from one city to another. These trips, dubbed "from hell" due to the many hardships they brought, constitute some of the most memorable moments in the author's life. Find Trips from hell and all that that implies in both English and Spanish.

Graphic Design
Beautiful Vector Icons

Royalty-free vector icons by Russian graphic designer Yulia Markova



Yulia Markova is a self-taught artist from Russia. Her country and environment have inspired her to create beautiful works that include exquisite drawings of animals, people and landscapes. Her art displays a unique combination of colors and forms that blend often with charming characters. One of her most recent works is a collection of royalty-free vector icons. The icons, a perfect ally for web designers and developers, include images of common objects found at work, audio player buttons and much more.

Literature
Clair de lune en si mineur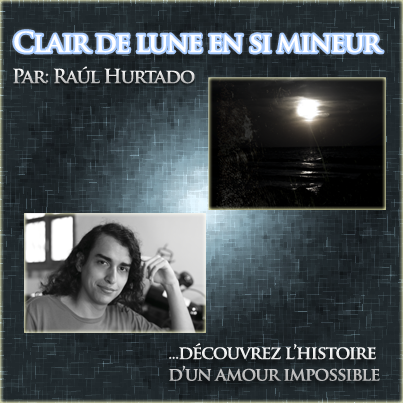 Clair de lune en si mineur by Colombian author Raúl Hurtado



Raúl Hurtado is a writer and music composer from Colombia. As a passionate of languages, he enjoys writing stories in languages other than his native Spanish. One of his most recently published works is Clair de lune en Si mineur (English: Moonlight in B minor), a short story in French about the love between Cirilo, a Cuban musician, and Colleen, an American tourist. Their love, a poisonous mixture of forbidden acts and overwhelming passion, is taken to the limit in a Cuba that prohibits its citizens to ever leave the island.