Saint Lucy's Day Tradition
Nationwide
Homes, schools and churches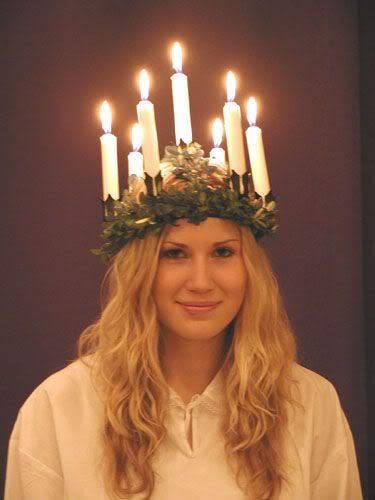 Swedish girls wear a crown of candles in memory of Saint Lucia
Lucia of Syracuse (283–304) is an Italian saint and martyr who inspired one of Sweden's most cherished Christmas traditions celebrated annually on December 13. According to history Lucia was a young woman living in times where Christians were persecuted and often murdered for not complying with traditional Roman religious practices. As a Christian herself and as a way to support the persecuted Christian community in Rome, Lucia would visit in secrecy Christians that hid in catacombs to protect their lives. Since these places were often dark and murky, Lucia would wear a crown of candles in order to have her hands free to serve others.
Similarly, young girls in Sweden wear on Saint Lucy's Day (December 13) crowns of candles (or fake candles for more safety) in the fashion of Saint Lucia. Girls are to be seen in processions organized in homes, schools, churches, hospitals, offices and even on TV as Sweden votes each year for its favorite Lucia, a popular event with traditional Christmas carols and where the beautiful Neapolitan "Santa Lucia", a tribute song to Saint Lucy, is never absent.

Saint Lucy's Day is also marked by the tradition of preparing food and drinks for the occasion. Here one finds recipes such as the round Lucia bread, the famous Lucia buns (Swedish: Lussekatt) made with saffron and the delicious Glögg, an alcoholic beverage made with dry red wine and spices. And for those who are more into the mood to party, Saint Lucy's Day is also an opportunity to meet friends or family members around a common theme: the festive Christmas spirit.
Saint Lucy's Day history and traditions
Saint Nicholas' yearly arrival
Most Western and Central European countries
Public squares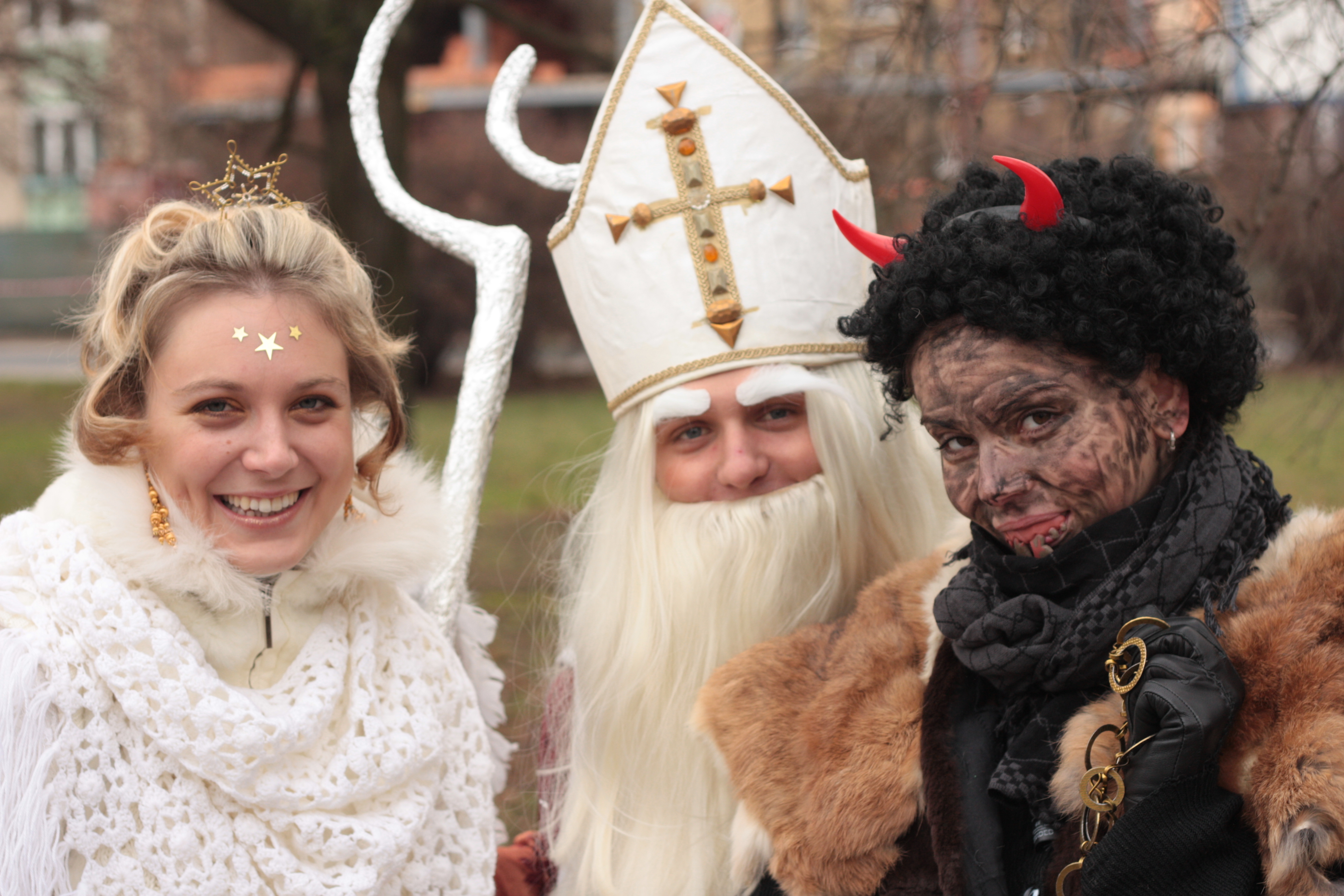 Saint Nicholas arrives in some European countries in the company of angels and devils
The arrival of Saint Nicholas, a 4th-century Greek bishop and saint, is widely awaited in several European countries. Depending on the country, Saint Nicholas arrives each year on
Saint Nicholas' Eve
(
December 5
) or
Saint Nicholas' Day
(
December 6
) to assess the behavior of children and offer gifts to those who have been kind and compassionate to others.
The figure of Saint Nicholas is typically represented in his bishop's cloak along with a white beard. In some countries Saint Nicholas simply places treats under children's pillows or shoes and is not normally seen in public. In others, however, Saint Nicholas arrives in public squares where he distributes small presents to children. But, whether he appears in person or just leaves small gifts, the lesson in all countries remains the same: behave and you shall be rewarded; misbehave and you shall be warned.

In some countries Saint Nicholas may also appear with other figures. These companions can be either angels or devils that assist Saint Nicholas in various ways. Perhaps one of the most common figures accompanying Saint Nicholas is that of the Krampus, a beast-like creature from the Alpine folklore whose main goal is to warn children who misbehave that if they do not change, he may come to capture them in his sack and carry them away into his lair.

And as for incentives to receive gifts, whenever Saint Nicholas appears in public, children are encouraged to sing a song or say a prayer before small treats are distributed. Countries where one finds the celebration of Saint Nicholas' Eve and Saint Nicholas' Day include France, Malta, Ireland, Italy, Spain, Portugal, Belgium, the Netherlands, Germany, Austria, Switzerland, Croatia, Bosnia and Herzegovina, Czech Republic, Slovakia, Poland, Romania, Hungary, Luxembourg, Slovenia, Greece, Serbia, Bulgaria and even some non-European countries.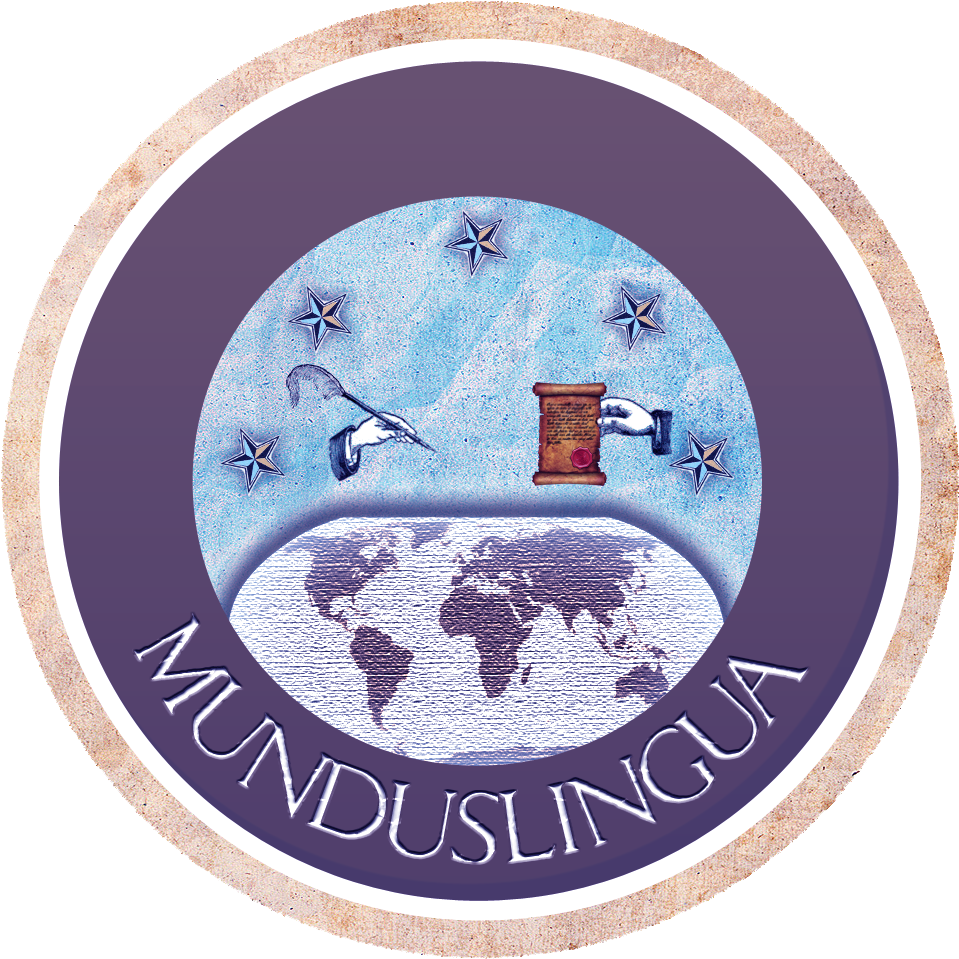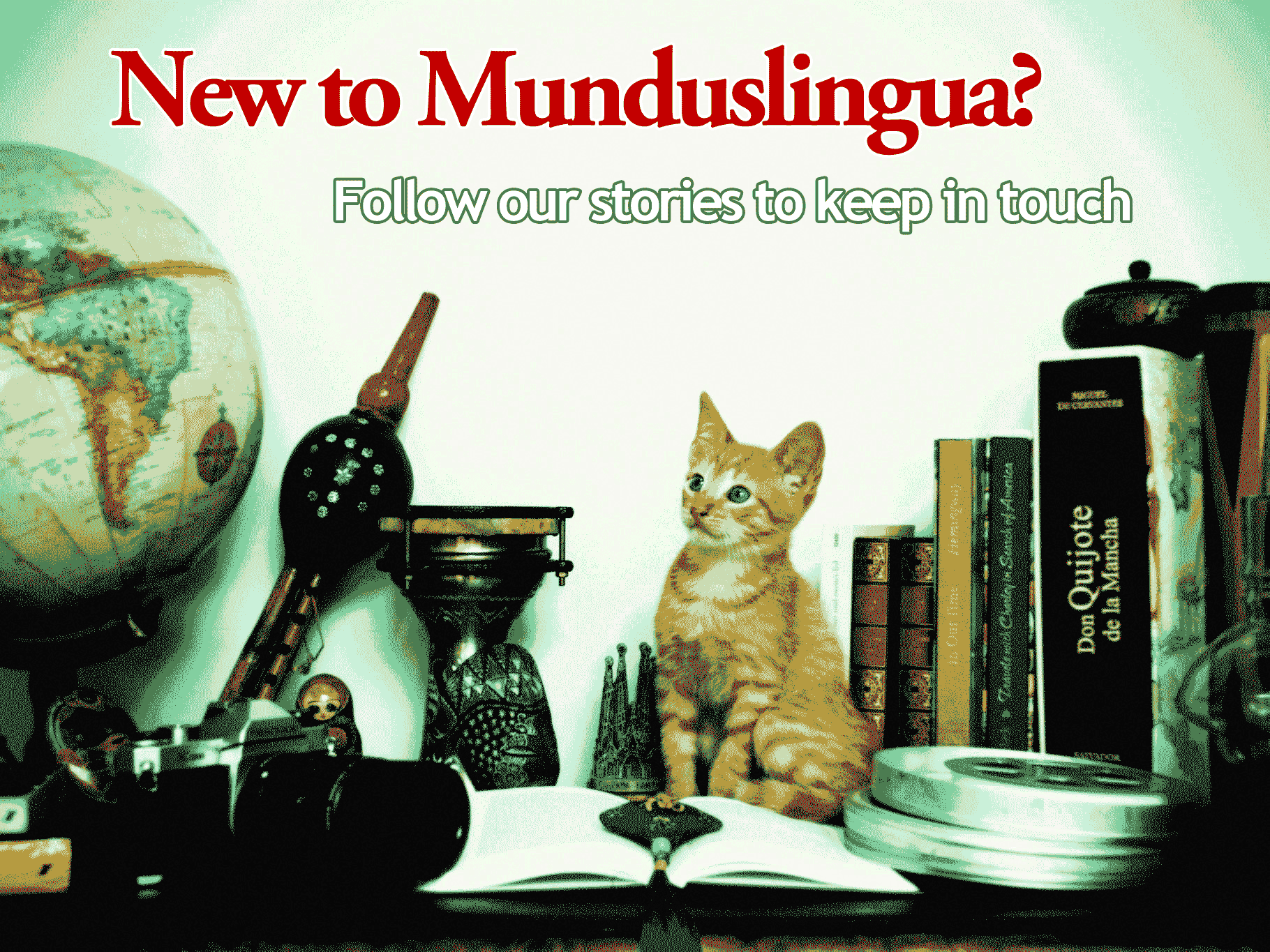 Choose your favorite channel below